Syros
Ano Syros
Ano Syros today
The modern city of Ano Syros, built in the Middle-Ages on the hill of Saint George overlooking Ermoupoli. Going up the thousands of stairs and walking in the beautiful alleys, you can enjoy a unique experience.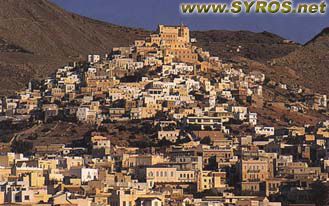 The municipality of Ano Syros, one of the first in Greece, comprises of Piskopio, Alithini, Malia, Kini, Agios Dimitrios, Finikia, Mitakas, Papouri, Chalandriani, Plati Vouni and Saint Mihali. All the northern part of Syros island, around 50% of the total surface of Syros and the smaller island Gyaros, roughly 12500 acres.
The permanent population of Ano Syros is around 1700 inhabitants, which are employed in agriculture, stockbreeding, beekeeping, tourism and shipping. Ano Syros municipality is in constant development and is participating in numerous European projects.
In the medieval settlement of Ano Syros, there is no room for vehicles, since the alleys are less than 2 metres wide and there are stairs everywhere.
The distance from the port of Syros to the main gate of Ano Syros is 3.5 km and the road leading there is a typical modern city road, plus some parts which are paved with granite rock, a traditional road-paving technique. There used to be 7 gates to Ano Syros but today only 3 remain.
In Ano Syros, there is no central square like in Ermoupoli, and the point of reference is the central alley called "Piatsa"